Nitrous Oxide at HealthPoint Dental
Have you ever felt worried about your dental appointments? Do you find yourself avoiding general checkups or ignoring oral health problems because you don't want to visit the dentist? Maybe you get anxiety or have a dental phobia. At HealthPoint Dental, we know that a fear of the dentist is common. That's why we've taken extra steps to offer solutions. We'll make sure that you're able to get the dental care you need.
How Nitrous Oxide Helps You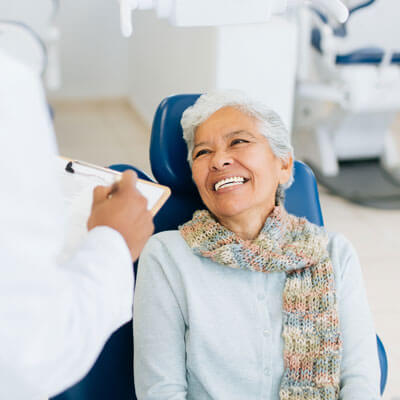 Nitrous oxide is one of the measures we take to make sure that you can stay comfortable while you have your dental care completed. There are many benefits to using nitrous oxide:
No side effects
Appropriate for adults and children
Controls anxiety, discomfort and fear
Takes just a couple of minutes to administer
You will be fully conscious the entire time
There is no recovery period afterwards
It's simple to administer nitrous oxide. You'll wear a mask that allows you to breathe normally. As you inhale and exhale, the gas moves through the mask. When you breathe it in, it will begin to take effect.
Who Should Have Nitrous Oxide?
If the idea of going to the dentist makes you feel uneasy, you can have your treatment performed under nitrous oxide. It is appropriate for general dentistry and cosmetic dentistry procedures. You'll be able to overcome any discomfort that you feel in a short period of time.
If the idea of a dental appointment has you feeling anxious, nitrous oxide is likely a good solution for you.
Sleep Dentistry Also Available
Would you like to have a stronger measure taken during your procedure? If you think that you require more than nitrous oxide, we provide sleep dentistry. When you have sleep dentistry, you'll be unconscious during your procedure and wake up with no memory of it. This option is fantastic for those who have dental phobias or would like to have several procedures completed during a single appointment.
Your Payment Options
It's important to us that our high-quality care is accessible to everyone in our community. We accept all health funds. You can claim your rebate straightaway with our HICAPS machine. Don't have dental cover? We'll be happy to discuss payment plans with you. We work with Zip Pay and DentiCare. The application and approval process is quick, taking just a few minutes to complete. Contact us today to learn more about nitrous oxide Liverpool!
CONTACT US

Nitrous Oxide Dentist in Liverpool NSW | (02) 9601 3164