Children's Dentist in Liverpool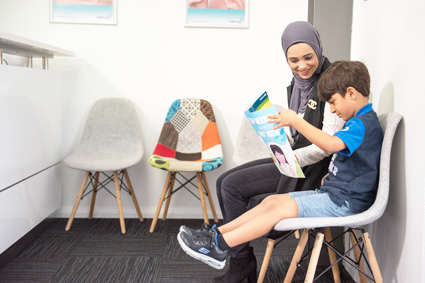 At HealthPoint Dental, we have a full range of solutions available. Our team provides the dental care that every member of your family needs. Offering children's dentistry is not the same as paediatric dentistry. We have the specific training to feature paediatric dentistry as one of our many available solutions.
With a unique understanding of children's needs, we have the skills to handle even children who might have behavioural problems. You can feel confident in our ability to get your child's teeth checked in a way that will work for them.
Why Children Need Dental Care
It's a common misconception that kids don't need to see the dentist until they're older. Some may even think that since the milk teeth fall out, their oral hygiene is of no importance. In fact, you should have your child in for their first checkup shortly after their teeth erupt.
By starting early, we can prevent the dental decay that is so common in younger patients. We can teach them about the dietary habits and hygiene routines that stop decay and other dental diseases from setting in.
They'll learn the proper toothbrushing and flossing techniques, detailed in terms they understand by a member of our team. Your child will have the knowledge to take control of their oral health rather than leaving it entirely up to Mum and Dad.
What a Paediatric Dentist Does
We've gone beyond the regular dental training to make sure that we can provide the best care for your kids. Our paediatric dentist has completed a postgraduate course in the area of paediatric dentistry. A paediatric dentist can provide the comprehensive care your child needs.
The specific knowledge that a paediatric dentist has includes the following:
The growth and psychological development of a child from birth to adulthood
The cause of and treatment for all oral diseases and dental injuries
How a child's nature, temperament, background, school and family environment impact their oral health
How childhood illnesses or disability affects oral health
The existing research, evidence-based treatment and best practice guidelines in children's oral health
Working With Behavioural Challenges
Does your child get anxious about dental care? Have they been diagnosed with ADHD or autism? You might feel concerned about their ability to complete dental treatment. We are trained to work with your child. We can even co-manage their case with their allied health professional, teacher or child care worker. Rest assured that they can be themselves at our practice. We'll make it fun and be sure to talk to them on a level that they comprehend and appreciate.
We can take it slowly to make sure that your child is comfortable. You're encouraged to have your younger children accompany an older sibling to their dental appointments. That way, they can meet our staff and get familiar with our environment before it's their turn in the dental chair. In our fun and relaxing environment, your child can learn to look forward to their dental checkups.
Your Child's First Appointment
If your child is ready for their checkup, we'll keep it simple. We'll ask them to open up and count their teeth together. Dental X-rays will be taken at regular intervals if required. If booked for it, we'll perform a cleaning. At the end of their appointment, we'll let you know what we found and whether any further treatment is necessary.
The Child Dental Benefits Schedule
We bulk bill for the Child Dental Benefits Schedule. This Medicare programme allows eligible children to receive $1000 in basic dental treatment every two years. Services such as cosmetic dentistry aren't covered, but you'll find that nearly all of your child's needs can be met under this programme.
Are you wondering if your child can take advantage of this benefit? We'll help you figure it out. Be sure to bring in their Medicare information so that we can bulk bill if your child is eligible.
Contact Us Today
We're here to take your call or answer your email. We look forward to speaking with you! You can bring your kids in for a convenient Saturday appointment or after school so that they don't miss out on getting a dental checkup. Call now to book a time with our children's dentist Liverpool!
CONTACT US

Children's Dentist in Liverpool NSW | (02) 9601 3164