Crowns and Bridges at HealthPoint Dental
Have your teeth been damaged? Whether they have been chipped, broken or are missing, your self-confidence and ability to chew or speak may have been compromised. At HealthPoint Dental, we provide a full suite of solutions to restore your oral health. Crowns and bridges are two simple options that you can take advantage of and show off a smile that you're proud of.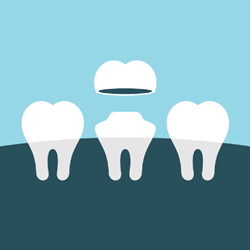 Strengthening Your Teeth With a Dental Crown
The ageing process and trauma are two common reasons that teeth can be damaged. You may have had an injury during your sport, have had a fall or noticed that over time, your tooth seems to have worn down.
Teeth can become cracked and broken, too. In these cases, a dental crown may be the most appropriate way to address your needs.
A crown is like a cap that goes over the existing tooth. It looks like a shell of a normal tooth, fully covering the compromised one. It will look completely natural and can be colour-matched to the rest of your teeth.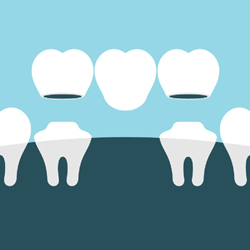 Filling a Space With a Dental Bridge
A dental bridge is a permanent solution that addresses missing teeth. If you're looking for a tooth replacement option and like the idea of one that is fixed in place, a bridge might be perfect. It looks like a row of false teeth joined together. The end teeth are placed on your existing teeth that are on either side of the gap. The remaining teeth in the middle are suspended into the open space missing a single tooth or multiple teeth.
A bridge is cost-effective, simple and can be cleaned effectively once you understand the proper technique. It will be colour-matched to your existing teeth for a seamless look.
A Two-Visit Process
Whether you need a crown or a bridge, two visits to our practice will be involved. At your first appointment with us, we'll take impressions and other measurements. This information is then sent to our laboratory where your restoration is created. Once it's return, you'll see us again for a follow-up to have your crown or bridge cemented in place.
High-Quality Materials
Our local laboratory uses only the highest quality of materials to make sure that your dental crowns and bridges Liverpool will last for years to come. Contact us today to schedule your first appointment! We accept health funds and have same-day visits.
CONTACT US
* Any surgical or invasive procedure carries risks. Before proceeding, you should seek a second opinion from an appropriately qualified health practitioner.

Dental Crowns and Bridges in Liverpool NSW | (02) 9601 3164