Wisdom Teeth Removal in Liverpool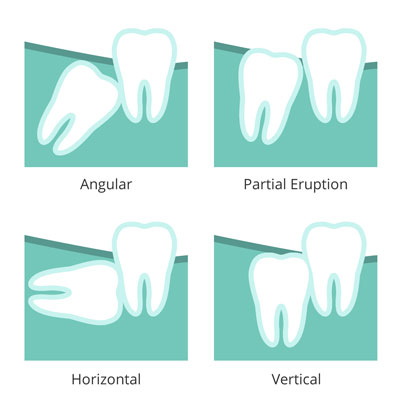 It's our aim to provide all the dental care you and your family require under one roof. When you become a patient at HealthPoint Dental, you have access to a full suite of services to suit your needs. You won't have to worry about going to other practices to complete the dental care you need.
Wisdom teeth extractions are no exception. We have a surgeon on our staff who can perform a comfortable extraction when your wisdom teeth aren't growing properly. Occasionally, the wisdom teeth can grow in with no complications. We can evaluate you to determine how you look using diagnostics such as X-rays. From these images, we can view the wisdom teeth and see how they will erupt.
Then, we can make our best recommendations about how to proceed and what you can expect.
When Your Wisdom Teeth Need to Be Extracted
Your wisdom teeth typically grow in when you're a teenager or when you're in your early twenties. They may be unable to erupt in your mouth as they should, which can cause a range of problems. You may experience any of the following:
Crowding
Overlapping
Pain
Swelling
Tooth decay
Your teeth may be blocked by the other teeth and not have space to erupt. In these cases, we'll likely recommend that you have your wisdom teeth extracted. We commonly perform this procedure, so you can feel confident that you will be comfortable and your extraction will be efficient. You'll be advised on aftercare when the removal has been completed.
What to Expect During Your Wisdom Teeth Removal
The first step is to have your wisdom teeth evaluated. We'll take X-rays to determine the best way to extract them. You'll be fully numbed, and we'll only start the extraction once you have agreed that you're ready to proceed. We'll place sutures that dissolve at the site so that you won't have to return to have them removed.
In total, a wisdom teeth removal Liverpool will take 30-60 minutes depending on the complexity of your case. You'll return to your normal daily activities within four days.
Frequently Asked Questions
My wisdom teeth don't hurt. Do I really need to have an extraction?
Perhaps not. It's possible that your wisdom teeth can grow in without problems. The absence of discomfort right now, however, doesn't mean that they can't cause issues in the future. That's why we recommend you have a checkup and let our professional team assess you.
How do I know whether my wisdom teeth have to be removed?
It is impossible to say until you have been properly evaluated. You can't know simply by looking or by the absence of having any wisdom teeth-related pain. To know for certain, book in at our practice and let our experienced team assess your wisdom teeth.
How long will my wisdom teeth removal take?
Your procedure will depend on a few different factors, such as how many teeth are being removed and the position of those teeth. After we've performed a full evaluation, we'll let you know what you can expect during your wisdom teeth removal procedure.
Do you use anaesthesia for wisdom teeth removals?
We want you to be comfortable during any procedure that you have with us. The area around your wisdom teeth will be fully numbed before we perform your extraction. We also have laughing gas you can use.
For people with more serious dental phobia or anxiety, we're pleased to provide sleep dentistry. If you choose this option, the anaesthetic is given to you intravenously. You'll be unconscious throughout your procedure. Afterwards, you'll need someone to drive you home, as the effects can take some time to wear off.
I'm concerned about the cost of wisdom teeth removal. Do you have payment plans?
Yes. If you need your wisdom teeth removed, you shouldn't be stopped by the costs involved. We're pleased to partner with DentiCare and Zip Pay. The process for the application and approval takes just a few minutes to complete.
Experience Dentistry With a Gentle Touch
Our experienced team is gentle during every procedure. If you have dental anxiety, we welcome the chance to help you feel relaxed. Contact us today! Would you like to get in on the day? Whether you have an emergency or find yourself with unexpected free time in your schedule, we can accommodate you with a same-day visit.
CONTACT US
* Any surgical or invasive procedure carries risks. Before proceeding, you should seek a second opinion from an appropriately qualified health practitioner.

Wisdom Teeth Removal in Liverpool NSW | (02) 9601 3164