Tooth Extractions at HealthPoint Dental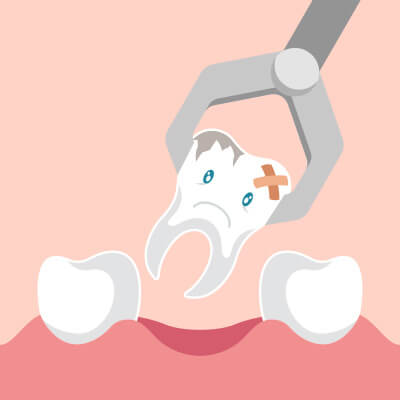 At HealthPoint Dental, we believe in a conservative approach to dental care. You'll never get unnecessary recommendations and you can feel confident we'll give you only the procedures you need and agree to. We take every possible measure to save your natural teeth whenever we can.
There are many restorative options that we may be able to recommend to you. In certain cases, however, an extraction may be necessary. If so, rest assured that we are well-versed in performing comfortable extractions and advising you on the proper aftercare.
Why Extract a Tooth?
There several situations in which an extraction may be necessary, such as severe periodontal disease, broken or cracked teeth, impacted wisdom teeth or prior to orthodontic treatment, dentures or implants.
We'll carefully evaluate you to determine if any other procedure is appropriate for your case. For example, a root canal treatment may save your tooth from extraction. Once we have determined that an extraction is the only way to proceed, we'll talk to you about each step of the process.
What to Expect When You Get an Extraction
The first step is to provide a numbing medication to the site of the extraction. We won't begin until you agree that you're ready. Your dentist will make sure that you don't feel anything and are completely prepared to proceed.
We'll have planned out the best way to go through with the extraction so that it is kept efficient and effective. We'll complete it as quickly as possible, then fill the area with clean, absorbent gauze.
You'll get full instructions on what to do afterwards.
Your Aftercare for the Best Recovery
You should stock up on foods that are easy to eat without needing too much chewing before your extraction Liverpool. You'll want to stay away from anything crunchy for at least a day or two. Sutures may be necessary for some extractions. If so, they'll dissolve so that you won't need to return to have them removed. If you have any discomfort after your extraction, you can treat it with an over-the-counter pain medication. Any concerns should be brought to our attention immediately.
Keep Your Smile in Great Shape
Contact HealthPoint Dental today to schedule your first appointment with us! We accept health funds and provide payment plans with 0% financing. Your rebate can be claimed straightaway with our HICAPS machine. If you do not have dental cover, we'll be happy to discuss applying and being approved for a flexible plan in just minutes.
CONTACT US
* Any surgical or invasive procedure carries risks. Before proceeding, you should seek a second opinion from an appropriately qualified health practitioner.

Tooth Extractions in Liverpool NSW | (02) 9601 3164