Dentures at HealthPoint Dental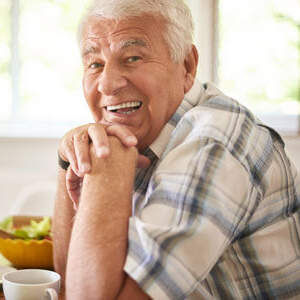 At HealthPoint Dental, we see all ages, from kids to seniors. Our senior population requires special care and are seeking specific solutions such as dentures.
Today's denture options are comfortable, snug-fitting and completely natural-looking. We'll consult with you to make sure that your denture is exactly what you want and need, and you're happy with its design and fit.
A denture is an option to replace your teeth if you are missing most or all of your natural teeth. They fit into the open space and can be created in full or partial forms. There are different materials that can be used to suit your particular case.
Frequently Asked Questions
What are the advantages of choosing dentures for teeth replacement?
Dentures are a simple and cost-effective solution. They are noninvasive and can be removed. Cleaning them is easy – you'll just put them into a denture-cleaning solution at night, then wear them again when you wake up in the morning. They'll restore your facial profile and support your remaining teeth.
Are there any dangers of not getting my teeth replaced?
Yes. If you have gaps in your smile and choose not to have them addressed, your other teeth will slowly drift into the open space. You can lose bone material in the gap, which will result in a sagging facial profile. By replacing your teeth, you can restore your natural look, eat your favourite foods and speak clearly.
No. Our dentures are fitted specifically to you. They will be comfortable to wear and feel secure when they're in place. You won't need to feel concerned about them falling out, even when you eat a broad range of different foods.
What is the process for getting dentures?
There are two appointments involved to get your dentures. At
your first visit
with us, we'll gather information such as impressions. This data will be sent to our laboratory where your dentures are fabricated. Once they're sent back to us, you'll return for a follow-up. We'll fit your dentures to you and show you how to remove them and take proper care of them.
Book Your First Visit With Us
Would you like to restore the look and function of your smile? We're here to help you. Let's evaluate whether you can benefit from dentures Liverpool. Contact our friendly, experienced team today to schedule your consultation with us! We have same-day appointments and interest free payment options.
CONTACT US
* Any surgical or invasive procedure carries risks. Before proceeding, you should seek a second opinion from an appropriately qualified health practitioner.

Dentures in Liverpool NSW | (02) 9601 3164