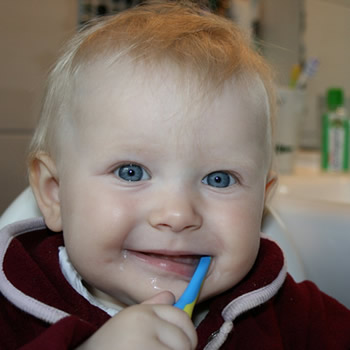 Contrary to popular belief, children can benefit from visiting the dentist as soon as their teeth break through their gums. Starting them early sets them up for continued oral health. Here are three reasons for you to schedule your child's first dental appointment as early as possible.
1. Prevent dental decay.
Dental decay is extremely common in young children. Most kids love their sweets! By getting them into the dentist early on in their lives, children are less likely to develop cavities. They also are more likely to learn the importance of healthy food choices. Kids will have the opportunity to become accustomed to regular dental cleanings. Additionally, they will also have access to resources they need to be able to learn good dietary habits.
2. Adopt better dental hygiene.
As qualified professionals, dental hygienists and dentists are responsible for more than only routine checkups. These pros also make it a part of their job to educate children regarding proper tooth brushing and flossing. From communicating the best techniques to the importance of daily dental care, they provide essential hygiene information in terms young ones can understand.
3. Learn valuable information.
Most dental practices want to see children take control of their oral health. By visiting the dentist's office early on in life, they will get the knowledge they need to make good decisions regarding the foods and drinks they consume. Children are better prepared for the future if the importance of a healthy smile is introduced early on.
Get Started Today
HealthPoint Dental is glad to help you get your child's dental health off to a strong start. Contact our practice to learn more about children's dentistry and how your child may benefit from the services we provide. Why wait? Schedule your child's appointment now!